aka it's time for me to catch up on some background reading.
I'm finally doing the second draft of Murder of a Straw Man. The plot and the bare bones of the book are done already, and now I'm adding fine details and making sure the characterization doesn't waver all over the place, the plot holes are closed, and things like the pace and the flow of the language are working okay.
So I thought it was time for me to begin to find out what else was out there in the same sort of line. (It may have been a bad move for my bank account, because I'm seeing so many books that are new to me that I really want to read. However, I call that a bonus.)
I asked myself what kind of a sleuth is Rory?
1. (Obviously) he is a morris dancing sleuth. Googling for Morris Dancing Murder Mysteries gave me this fantastic list of other morris mysteries:
http://mysteryreadersinc.blogspot.co.uk/2017/05/may-day-crime-fiction-and-morris.html
I've read Death of a Fool (Off with his Head) by Ngaio Marsh, which is – as you might expect from her – really good and creepily atmospheric. Her morris dancers are just as the Victorian folklore collectors seem to have imagined they were; keeping alive an ancient, spooky pre-Christian ritual. I have to say from my own experience of the dance, we don't do a lot of that, but it certainly makes for a good story.
I see there are two morris mysteries from Gladys Mitchell. Dead Men's Morris and The Death-Cap Dancers. Definitely going to have to look them up!
And I'm reading The Moonlit Door by Deryn Lake at this very moment. Her Mr. Grimm's men are distinctly sinister. I like it!
(Mine are not.)
This is a pretty small niche, and from what I've seen a lot of these mysteries are not written by people who are morris dancers themselves. I dance with Sutton Masque,  Coton Morris, and Ely & Littleport Riot,  and I do so in the year of our Lord 2018, so I can say that I am officially familiar with the modern morris scene. Whether that's a benefit or a drawback is up to you to decide 🙂
Oh, and if you are thirsty for books involving morris dancing, and you're willing to take a chance on something that is not a mystery, you might like my Blue Eyed Stranger.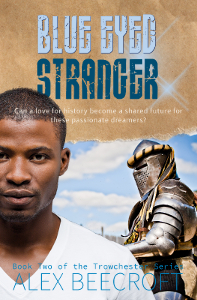 A m/m romance between a morris dancer and a Viking re-enactor.
Oh look! This also looks good: For Whom The Bell Tolls – a Morris Dancing Murder mystery & hog roast. And it's on my birthday. If I'm not dancing on that date, I might actually go to that.