Murder of a Working Ghost is currently at #27 in all the Kindle store, at #1 in "Traditional Detectives," and #2 in "Cozy mysteries."
If only that was in the paid lists, but alas, I put it on free for a week to try to boost its visibility. In that, it absolutely seems to have worked!
It was downloaded by 4,250 people yesterday. I really hope at least some of them leave me reviews 🙂
Still, I can call myself an Amazon bestseller, which is always nice, and what's nicer is that people seem to be reading it and then coming back to buy Murder of a Straw Man, the first in the series.
So far the cozy mystery audience seem to be much more open to reading books with LGBT characters than the SF/F audience. I'm not getting the "OMG, why is everyone gay?" comments on the mysteries that I've been getting on Cygnus Five.
Anyway – enough waffling. If you are interested in getting Murder of a Working Ghost for free, grab it now as the promotion only lasts until the 9th.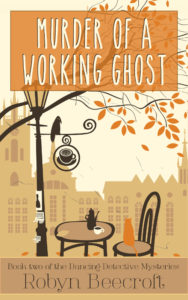 I didn't mention that I'd changed the cover, did I? Also I changed the cover 😉