A murdered dancer. An attractive policeman. A tangled mystery.
Newly settled in a quaint small town in the English Fens, Rory Cornwell knows no-one and is too shy to go out and make friends. When a local festival is marred by the murder of a morris dancer, his pretty house-mate Haley is distraught–her uncle is the prime suspect.
Nervously investigating, and smitten by Zach, the attractive policeman on the case, will Rory uncover the true culprit before the wrong person is jailed? And can he untangle the knot of fake dating and misunderstandings between himself and Haley before dreamboat Zach gets away?
Readers' Praise for Murder of a Straw Man
"Robyn Beecroft's book started off strong and engaging and only got better as I rapidly made my way through this page-turner cozy mystery…From page one I knew I was in the hands of a truly skilled writer, who knows the ingredients of great stories and how to mix them together in just the right proportions."
"The characters pop off the page, and the plot nicely keeps you guessing. Just enough romance to keep me happy, and a great treatment of asexuality…Deceptively simple I would say, and full of unexpected pleasures."
"This falls into the class of quirky literary mysteries like those of Edmund Crispin, Gladys Mitchell, and more recently Ellen Seltz, rather than the usual run of cozies. The writing is rich and full of keen observation."
"What a wonderful, creative, compelling and interesting cozy mystery! In all, it's a well-written, visual delight as well as an entertaining tale."
"This book was very interesting and had me hooked from the beginning. I loved the development of the characters, especially Rory, and finding out more about their lives, and why they are who they are…. I am really looking forward to the next book in the series."
"Fresh, engaging protagonists. Skilled character development, and a knack for bringing the scenes alive….. Loved it! Write another 20 please, Robyn!"

Out Now!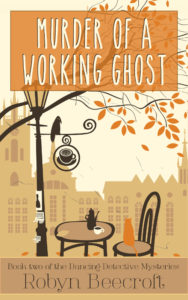 A murdered specter. An unwanted suitor. Malice at the Museum.
Halloween approaches and in the ancient capital of the Fens, Haley Thorpe is working as a costumed actor on a ghost tour. When one of the other 'ghosts' is murdered by a cunning device, suspicion falls on Haley—the only one unobserved at the scene.
If that wasn't enough, Sean, the guy her parents think she should marry, is turning into a regular stalker. She doesn't want to date him. She's not sure she wants to date anyone at all, but does she have a choice?
Can she and Rory—her posh house-mate—figure out the real murderer before she gets arrested? And can someone tell Sean that he's not all that before he starts breaking down the door?
~
Murder of a Working Ghost is a cozy mystery that will appeal to fans of Jeanne M. Dams' Dorothy Martin Mysteries and Ian Thompson's Murder At The Jolly Jester. Readers who enjoy small town mysteries set in England will love this glimpse at the stranger side of village life, because you don't get much more British than spooky goings on in a cathedral town.