I've been offering the next book in the Dancing Detective series free to people who sign up to my newsletter, so my subscribers will be glad to know that I have finished all the editing I had on my plate, and DD volume #2 is finally under way.
It has a title, and it has a mockup for a cover. It's really happening, guys 🙂 Without further ado, let me introduce to you:
Murder of a Working Ghost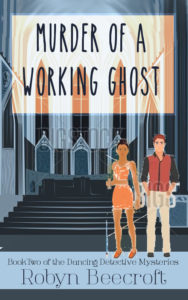 The mockup is a little ugly at the moment because of the watermarks, but I thought I'd get your reactions before buying the large size images, in case your reaction was, "Ugh, I hate it!" and I had to go back to the drawing board.
What do you think?
Horrible? Could do better? Love it? Let me know!