Long story – I do a lot of dancing. My knee is suffering. I want to lose weight so I can dance more with less pain. So I'm currently on the Slimming World diet. This is all very well when I'm at home and life is going on in its usual course, but the summer is i-cumen in and now we shall be dancing most weekends.
This weekend is the Joint Morris Organizations Day of Dance in Peterborough on Saturday, for which I will be dancing with Sutton Masque. And on Sunday St.Ives is having a festival at which Ely and Littleport Riot have been asked to perform.
It's a lot harder to stick to a diet when you're away from your own kitchen where the contents of your cupboards hold no mysteries. It's even harder when you're having a day of hard physical activity. The Slimming World diet is not exactly a horribly restrictive diet – it is essentially just fat-and-sugar-free – but it is the kind of diet that is not catered to by food that you can buy. If you're lucky you can get a baked potato with baked beans, but you can't eat that every weekend throughout the summer without losing the will to live.
Add to all that the fact that you're in a festival atmosphere, where everyone else in your side is coming back from the food vans with chocolate crepes or chips and curry sauce or (in the case of meat-eaters) pig roast, I foresaw multiple weekends of diet disaster.
So I bought myself a bento box. As (see above) dancing takes a lot of energy and I have a hearty appetite anyway, I got a 1.7-litre box from Monbento
Here is my first attempt at a Slimming World compliant, vegetarian, morris friendly lunch: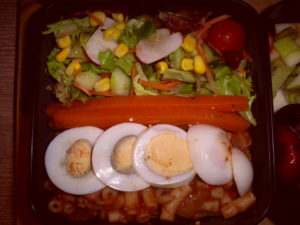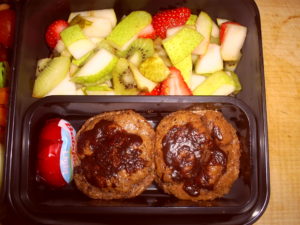 I had some SW friendly arrabbiata sauce left over from dinner last night, so there's macaroni arrabbiata as a sort of pasta salad. Then there's an actual salad with vinaigrette dressing. They're separated by carrots cooked in spicy vegetable stock. They were meant to be carrot kinpira, as described in this VEGGIE BENTO LOVE blog but I did them by memory and ended up forgetting to saute them first. Never mind, they still taste good!
The top layer is cut up local strawberries, a pear and a kiwi-fruit, with a light babybel cheese (one of three from my healthy extra A choice) and two cakes from the Pinch of Nom website at 1.5 syns each.
I would have liked to put a yoghurt in there too, but I don't yet have a pot for sauces/wet stuff. I'm not sure where I would have fitted it anyway. I suppose I could have sacrificed some salad!
It's waiting in the fridge now, ready to be picked up and run with in the morning. We'll see how well it does.
And then I have to come home, clean it out and assemble another one for Sunday. More about that tomorrow 🙂