This is getting to be a series. I don't think that's a bad thing, as when I went searching for bento ideas that were also Slimming World compliant, I didn't find any. That means that (a) I have to do it myself, and (b) one day there may be someone out there looking for SW bento ideas, and I will be able to be of use to them.
So, my first attempt (half salad, half pasta arrabiata) wasn't quite sustaining enough for a day of dance. When you're dancing from 11am to 4pm, and travelling 2 hours to get to the event, you need something that will provide elevenses, lunch and an afternoon snack.
For the second attempt, however, I went overboard with protein, with curry and rice and extra tofu and a hard boiled egg. I ended up bringing a lot of that one home.
Third time lucky. I ate all of this one but didn't feel the need for anything more. My lunch this time was as below: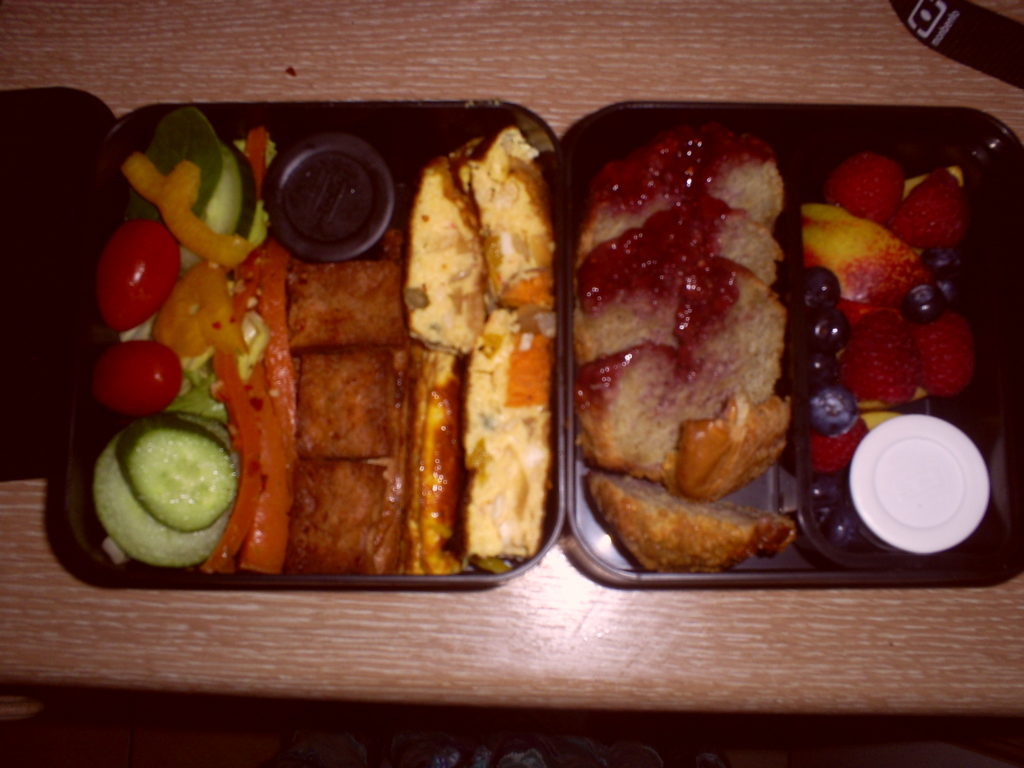 One third salad for all that superfree goodness. The carrot kinpiru again. A third of vegetable frittata. (This one is roasted sweet potato and yellow pepper.) And a third of roasted tofu, with a little pot of dressing for the salad. I don't like the SW approved free vinaigrette dressing, so I make my own.
Then the dessert tray is a half fruit salad (nectarine, raspberries, blueberries) with a little mullerlight yoghurt in the pot to use as a dipping sauce. And a baked oats pudding (3 syns for the jam if using oats as your Healthy Extra B choice – which I was.) I made the baked oats the night before, then turned it out and sliced it, so that I could eat it like biscuits throughout the day.
All of this was free except for the jam. Which meant that once I got home I still had up to 12 more syns and my A choice available.
Carrot Kinpiru
Make a tasty vegetable stock from stock-cubes, marmite and herbs/spices. Cook carrot strips in it until they are bendy.
Frittata
Cut a sweet potato into small chunks, spray with fry-light and toss with spices of your choice. (I use steak seasoning.) Roast in the air fryer if you have one, or in the oven if you don't.
In fry-light, fry onions and peppers, spinach and any other superfree veg you may have on hand.
Combine six beaten eggs with 250g of fat free cottage cheese and pour over the veg in the frying pan. Cook slowly until it seems to be set on the underside, then put the pan under the grill to set the top. Turn out and cool, then cut into strips to fit your box.
Roasted Tofu
I've seen some awful roasted tofu in my time. Which is a shame because roasted tofu is fantastic – savory and slightly like bacon or toasted bread. The key is all in the preparation. Firstly you don't want silken tofu for this. Silken tofu is for making chocolate pudding! Get firm tofu (aka 'normal' tofu.)
First pre-prepare the tofu as explained here. I drain mine, cut it up into three layers and press it between two boards, covering it with clean tea-towels to absorb the moisture, but after reading that site, I'm going to try freezing it.
Once it's pressed, I cut it up into even sized chunks.
Make up a marinade with soy sauce, white wine vinegar and spices. I like piri-piri spice on mine, but I really love chili and other hot food. Your palate may vary!
Put the tofu in an airtight container, cover with the marinade and leave in the fridge overnight.
In the morning, take the chunks of tofu out of the marinade and stick them in the air fryer or hot oven to roast.
They take about 20 minutes, and they come out savory and chewy, ready to go in a curry or stir-fry, but plenty good enough to eat on their own. Like eating a packet of smokey bacon crisps, but more filling.
Salad dressing
Combine balsamic vinegar, soy-sauce and your herbs/spices of choice.
Baked Oats
40g Oats (HE.B)
2 eggs
1 tsp almond essence
1 tbsp sugar free syrup. (Optional, but makes it sweeter and softens the texture a little.)
2 tbsp sugar free jam (I used raspberry because it was what I had on hand.) 1.5 syns per tbsp.
Spread the jam in the bottom of a large ramekin. Beat the eggs with the essence and syrup. Add the oats to the eggs and combine thoroughly. Pour the egg and oat mixture on top of the jam and put the ramekin in a pre-heated oven. Bake at approx 200C for approx 30-45 minutes.
It comes out very solid. If you're eating it at home, it's a real treat hot with a mullerlite yoghurt as custard. But, for the bento, turn it out onto a cooling rack and, when it's completely cool, slice it and refrigerate until you're assembling your box.
I assemble the box the night before and keep it in the fridge afterwards so I can pick it up and run in the morning.
This weekend Sutton Masque were dancing at Lamport Hall for the Festival of Country Life. This is one of the most charming stately homes I've visited so far. Photos to come!